This morning I hiked through wooded and steep hills that form one of several large pastures my friends Barney and Suzanne use for grazing their cows. It was much harder work than I anticipated: the ground was soft from so much rain, the long grass provided lots of resistance, and the steep slopes and 85 degree sun added to the challenge.
The cows kept a significant distance between themselves and me, so most of the time I felt pretty alone in this peaceful, pastoral setting. There was an odd intrusion, however, for part of my hike – the sound of cars and trucks on Interstate 80 which this land abuts on its northern boundary.
After my hike I headed southwest to check out two tiny towns someone recently suggested (Tracy and Attica) and stopped in Oskaloosa at Big Ed's BBQ for a delicious sandwich. I didn't find anything in the towns I wanted to photograph, but driving back to Grinnell saw an old farmstead and photographed the two barns I've included here.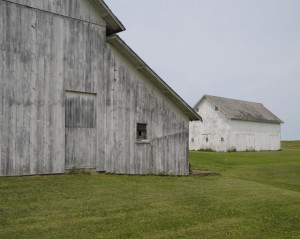 Had a delightful dinner with my friends Jon and Karin and one of their daughters. We ate on their deck which overlooks Rock Creek Lake. Observing the view on this warm almost-summer evening, it was difficult to imagine that on my last visit we hiked across the frozen, snow covered lake in bitter cold Iowa wind. For dessert we had Cool Whip, with fresh berries hidden somewhere at the bottom of the bowl. It seems that this family, from whom I've learned so much about locally grown, and healthful, organic eating, and community supported agriculture, consumes Cool Whip by the ton. They buy it in 80 gallon drums! OK, I'm exaggerating, but I really got a kick out of discovering this family secret.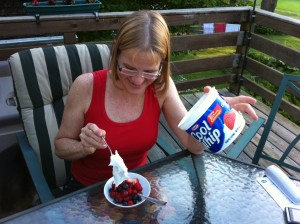 Hiking in the pasture was much harder work than I anticipated.
You can leave a response, or trackback from your own site.