I was very excited to discover in Green and Lafayette Counties, in the southwestern part of Wisconsin, the beautiful rolling hills and wonderful old farm buildings that I was hoping for. The light was grey and dismal all day, periodic light rain and the constant threat of thunderstorms (not to mention a temperature drop of more than 30 degrees from the previous day), but I had an enjoyable day driving and photographing nonetheless.
I also came across several unexpected visual treats. The clock tower of the 120 year old Green County Courthouse in Monroe, while hard to access with my camera and tripod, was well worth the effort.

Another fun subject to shoot was the steam billowing from an ethanol plant outside of Monroe. I thought the white-grey steam, shadowed below from my low angle, contrasted nicely against the bright grey overcast sky.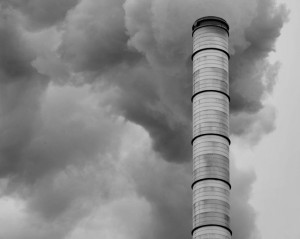 I finally found rolling hills and wonderful old farm buildings.
You can leave a response, or trackback from your own site.