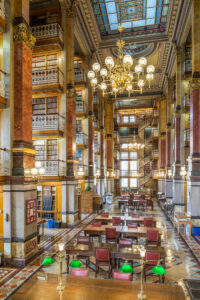 Capitol America, the State Capitols photographic project I've been working on for years with my friend and colleague Robert Lisak, received in today's online edition of National Review, an insightful, informative and generous review by art critic Brian T. Allen. A Pictorial Review of America's State Capitols.
An exhibit of work from the project is on view now through August 28 at the Stanley-Whitman House in Farmington, CT.
On Wednesday, July 14 from 5:00 to 7:00 pm, Robert and I will be there for a panel discussion with George Miles, the curator of the Western American Collection at Yale University's Beinecke Rare Book and Manuscript Library.
photo: Law Library at the Iowa State Capitol, Des Moines