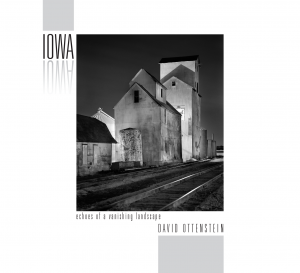 After 13 years of photographing in Iowa, some 50,000 images and tens of thousands of miles, my book is now available!
IOWA:Echoes of a Vanishing Landscape contains 89 of my black and white photographs and includes texts by Alan Trachtenberg of Yale University and Jonathan Andelson, director of the Center for Prairie Studies at Grinnell College in Iowa. The book explores the transformation of the Iowa landscape from one based on the agrarian notion of the small, diversified farm to a landscape geared toward industrial scale agriculture. My photographs of rural and small-town Iowa depict sweeping landscapes, abandoned farmhouses, grain elevators, section roads, ethanol plants and many more "discoveries" that I've made while wandering Iowa's "back roads and forgotten corners," as Jonathan Andelson aptly describes it.
Proudly produced in the U.S., the 10" by 11" hardcover, 144 page book was printed by Cannelli Printing in West Haven, Connecticut, with high quality tritone reproduction. The publisher is Prospecta Press, also based in CT.